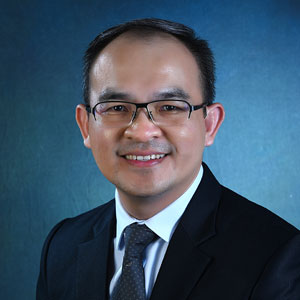 Singapore Bible College
Principal / Covering Senior Dean of Academic Affairs / Associate Professor of Theology

EDUCATION
M.Div (SBC, Singapore)
M.Th (Aberdeen University, Scotland);
M.Phil (NUS, Singapore);
Ph.D. (Exeter University, UK)
BIOGRAPHICAL INFORMATION
Rev Dr Chia was born in Malaysia into a large family and accepted Jesus as his Lord and Savior during his youth. He was brought up in a Chinese cultural background and Reformed church tradition that enable him to think both contextually and theologically in his formative years.
A graduate of Singapore Polytechnic, he had worked four years as an Assistant Civil Engineer. His calling and commitment to Christ led him to train at Singapore Bible College. After he received his Master of Divinity, he served for 9 years as a pastor in two churches, Presbyterian and Evangelical Free Church. Dr. Chia received further theological training in Aberdeen University (Scotland) and philosophical training at the National University of Singapore, graduating with the Master of Theology and the Master of Philosophy respectively. He then completed his PhD in Theology at the University of Exeter (UK).
He joined the faculty of SBC in 2008 as a professor of Systematic Theology and served as the Dean of the School of Theology (Chinese) in 2010. He is committed to serving as a servant of Christ, doing theology for the Church and caring for the society. For two decades, he teaches and writes extensively with a burden of engaging the church and the world through the lens of the biblical worldview.
A prolific writer and contributor to newspapers, magazines and journals, his latest book, A Theological Event Book of the 21st Century (published by Campus Evangelical Press, Taiwan, 2015) addresses the issue of doing a contextual theology in a pluralistic world.
Dr. Chia married Mdm Yvonne Meng-Ngor Ng in 1995. They have two children, Osmond Quan-En and Thelma Shan-Ning Chia. They enjoy having dinner together, sharing life experiences, exchanging new learning experiences and going on family trips.
COURSES TAUGHT
系统神学
基督教伦理学
现代与后现代神学思潮
学与科学对话的基础
神学与哲学(世界观)
神学思考法
AREAS OF EXPERTISE, RESEARCH, WRITING, AND TEACHING
Wolfhart Panneberg's Revelation as History: An Appraisal (Aberdeen University: MTh Dissertation, 2000)
Emmanuel Levinas on the Divine Command Theory with the Specific Reference to Genesis 22
(National University of Singapore: MPhil Dissertation, 2004)
Karl Barth's Doctrine of the Jewish Christ in the Light of the Nazi Christology:
a Non-Violent Vision of Christological Politics (Exeter University: PhD Thesis, 2008)